Written by Bart Demeter, director of Oceana County CASA
August 15, 2022
---
As the director of the CASA program in Oceana County, I have observed quite a few cases of neglect and abuse. I can say with confidence the work we do is both effective and vital. I was a foster child myself, so I know that for a child, having someone in their corner is a lot more than having an extra set of eyes and ears for the court.
Growing Up In Foster Care
My brother and I had no one in our corner when my parents fought protracted and ugly custody battles. For them it was about who paid who and how much, not who got the children. Years of battling, my mother's prescription drug abuse, and mental health issues created an environment where both my brother and I were abused and neglected in frequent doses. The months leading up to our entering the foster system were not the worst, but they were the coldest and the hungriest. Our only source of heat was the furniture that I chopped up and burned in the fireplace, and our only meals were school lunches.
Our foster home didn't prove to be much better. The night we arrived, our few trash-bagged possessions were not even allowed inside. Our foster mother didn't even look in the bag that contained our few treasures: some Legos, a stack of cherished baseball cards, and an outfit or two. Our possessions were dismissed with a disgusted sneer and a snarky comment about filth. The grinding of a city trash truck signaled the end of home – mother, father, friends, teachers, and possessions.
Foster care promised to improve our lives while my mother recovered, but that wasn't the case. Our lives didn't improve in the manner which we wanted, and our mother didn't recover. Meanwhile, attorneys fought for legal objectives, parents fought each other, and the social workers, as infrequently as we saw them, reported everything we said for later use in court. No one asked what we wanted, and no one even asked if we were alright. But that wasn't even the worst of it.
Court is traumatic for children. I don't have to imagine what it feels like to be forced to stand up in court and testify against a parent. I don't need to imagine the fear and anxiety of saying the right thing or feel the judgmental stares of everyone in the courtroom. Even though I was only a 7th grader, I could tell how my answers were going to hurt one parent or the other. I was conflicted and frightened. My mother's thin-lipped scowls and my father's helpless stares let me know that I had destroyed their lives. More importantly, I knew for certain my testimony wasn't helping my brother and me. At best it meant longer stays in the foster system, and at worst, more abuse if we were reunited with our parents. No one explained to me that I was doing the right thing. No one consoled me. The weight of my parents' problems and the fate of my brother and I were all on me.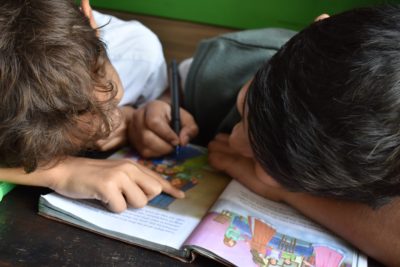 The Impact of a CASA
I think about this often as cases of neglect and abuse pass through our control. With CASAs on the job, the children have a person who's only purpose is to voice their wants and needs. Sometimes that means our CASAs research – visit doctors, dentists, and the like, insuring the child's physical well-being is looked after. Other times, it means pouring over case files and making sure critical mental health tests are performed in a timely manner. Most often, it means being a stable adult who simply listens without judgment. And of course, it means having an adult who clearly has no other interest than seeing the best for the child.
I can't help but wonder how much better off my brother and I might have been if a CASA been involved in our lives. Knowing this, I am grateful to the volunteers and supporters of the Oceana County CASA program. It is reassuring to know that someone is looking out for children in the foster care system.
---